▌Pesticide
In the field of pesticide registration, computational toxicology is mainly used for the equivalence assessment of original drugs (Technical Equivalence), that is, TE assessment. TE evaluation is mainly to determine the similarity of chemical composition of original drugs from different sources. If the new source of the original drug is equivalent to or safer than the reference original drug, it can be considered that the new source of the original drug is equivalent to the reference original drug.
TE evaluation is usually carried out in stages. The first stage is the identification of product chemical data, which mainly includes the production process of the original drug, product chemistry, quality analysis of the original drug and impurities. If there are new impurities or increase in impurity content, the first stage of identification is not the same, and the second stage needs to be entered, that is, toxicology and ecological environment data identification.
The original pesticide will have impurities in the production process. If it is impossible to determine whether it is a toxicological-related impurity according to the content and type of impurities, toxicological data and environmental toxicological data need to be identified. Impurities are often new substances, and toxicology-related data are few to determine the risk of toxicity. In addition, these impurities are often low in content and difficult to obtain, making it difficult to carry out testing. In the toxicological identification of pesticide impurities, many countries and regions such as the European Union, Mexico, Brazil and so on have suggested using QSAR prediction to obtain data for impurity toxicity assessment.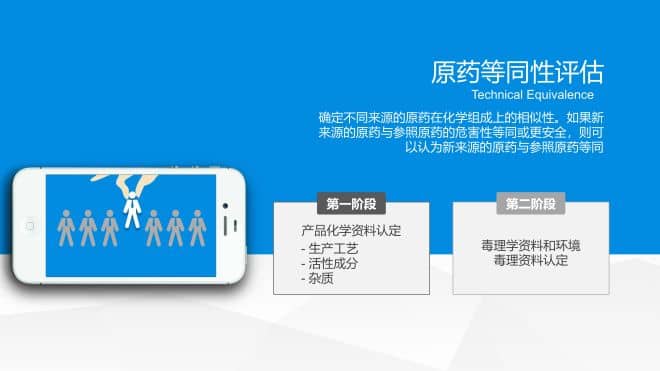 ▌QSAR Report Requirements for Pesticide Registration in Various Countries and Regions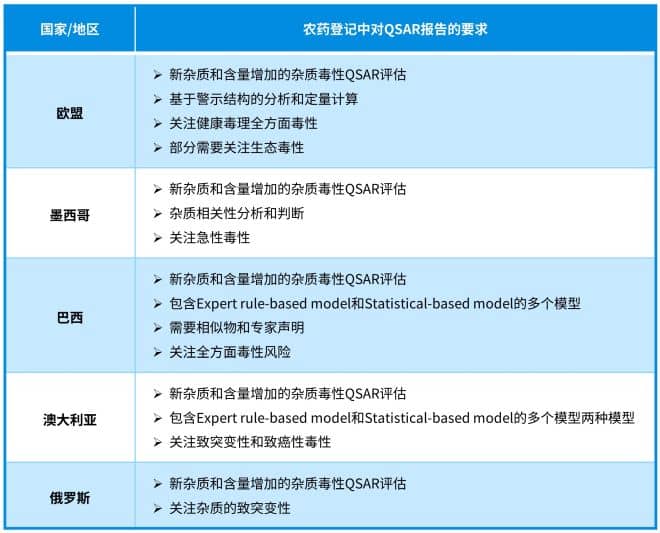 ▌Our service
◆ EU Pesticide TE Assessment Impurity Toxicity QSAR Report
◆ Mexican Pesticide Registration Impurity Toxicity QSAR Report
◆ Brazil Pesticide Registration Impurity Toxicity QSAR Report
◆ Australian Pesticide Registration Impurity Toxicity QSAR Report
◆ Russian Pesticide Registration Impurity Toxicity QSAR Report
◆ Warning Structure Analysis
◆ Impurity Correlation Calculation
◆ Query similar objects